by Vancouver Island Master Gardeners Association
Latin name:  Nerine bowdenii
Common Name:  Cornish lily, Cape flower, Guernsey lily, and Bowden lily
Nerine bowdenii is a species of flowering plant in the Amaryllidaceae family. It is a herbaceous bulbous perennial.  The species was named in 1904 after Athelstan Cornish-Bowden who had sent bulbs of the plant to England from South Africa where it is a native plant. This nerine is hardy to zone 7 and is the only really hardly species of nerine for our climate.  It is one of the few bulbs that blooms in the autumn and the flower often blooms before the leaves appear. It is also excellent as a cut flower. There is one white cultivar named Nerine bowdenii f. alba. This plant has gained the Royal Horticultural Society's Award of Garden Merit.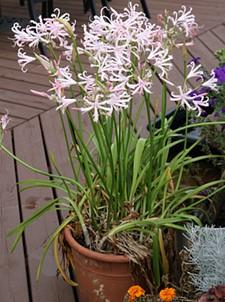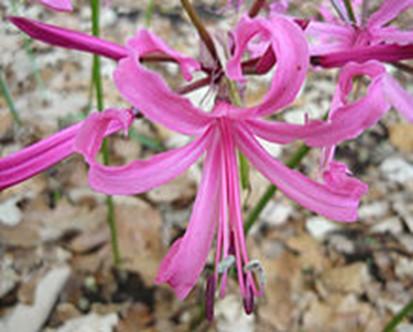 Attribute
Description
Form:

It is an herbaceous bulbous perennial with flowers born on long 18 inch stems in umbels.  The stalked flowers radiate from a single point at the top of a stem.

Foliage type:

Broad, strap-shaped leaves which appear after the flowers.

Height/Width:

Leaves are 18 inches tall (45 cm), flowers are born in umbels, 4 – 8 in across (10 – 20cm) of up to 25 flowers.

Hardiness Zone:
Zone 7 −15 °C (5 °F).
Exposure:
Plant in full sun.
Flower Colour:
Pink, and there is a white cultivar Nerine bowdenii f. alba.
Leaf Colour:
Green.
Flower Time:
Autumn.

Preferred Soil &

Watering:

Plant Nerine bowdenii in a well-drained soil in full sun in early spring and provide deep, dry winter mulch where marginally hardy.  Where it is hardy, grow in a border or rock garden, or at the base of a sunny wall.

Other:

If eaten, all parts may cause mild stomach upset.
Photo credits: Potted plant and Close-up.