Summer Thursday - Sunday Openings
April 28 - September 4:  Thursday - Sunday
11:00am - 4:30pm with viewing until 5:00pm
Adult admission $12 or entry with current membership.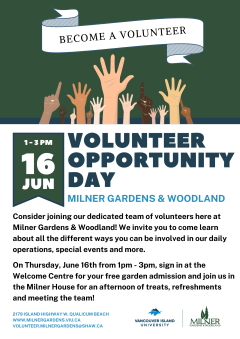 Volunteer Opportunity Day
June 16:  Thursday
1:00pm - 3:00pm
If you missed Volunteer Opportunity Day at Milner Gardens & Woodland in June,  we have a variety of volunteer openings available in the following areas:  Camellia Tea Room, Special Events, Maintenance, and Flower Arranging. 
For more info, see our volunteer positions.  Please complete the volunteer application form, and drop off at the Welcome & Interpretive Centre (WIC) during our open hours, or email to Volunteer.MilnerGardens@shaw.ca
Fall Thursday - Sunday Openings
September 8 - October 2:  Thursday - Sunday
11:00am - 4:30pm with viewing until 5:00pm
Adult admission $9 or entry with current membership.
Fall Plant Sale
September 17 - 18:  Saturday & Sunday
11:00am - 4:00 pm
Great discounts on heritage plants from the Milner Gardens collection!
Special Fall Plant Sale Admission: $6 Adult, $4 Youth
October Friday & Saturday Openings
October 7 - October 29:   Friday & Saturday
11:00am - 3:00pm with viewing until 3:30pm
Adult admission $6 or entry with current membership.
Milner Christmas Magic
December - dates to be announced
Ongoing Events & Activities:
Guided Tours - Cancelled until further notice
Guided tours are available to groups of 10 or more with prior arrangements.
To arrange a guide, please contact the main office at milnergardens@shaw.ca.
Tea Service
 -
Stay tuned for info on the Camellia Tea Room opening.
Hours & Admission