by Vancouver Island Master Gardeners Association
Latin name:  Deutzia scabra 'Pride of Rochester'

Common Name:  Fuzzy Deutzia
Deutzia scabra is a broadleaf deciduous shrub in the Hydrangaceae family. It has distinctive clusters of small, white, often doubled flowers that appear fuzzy which bloom from May to July.
Native to Japan where it is commonly found around forest edges and rocky outcrops, Deutzia is tolerant of a range of soil conditions and fairly disease tolerant. However, it may suffer in extremes, such as too much moisture in poorly-drained soil or drought conditions. It is notable for its ability to flower in shade.
It has dull green leaves with serrated margins and a slightly rough texture. The plant can grow 1-3 meters in height. Prune after flowering to maintain size.
Very ornamental and hardy, Deutzia works well as a hedge, a standalone or in shrub beds. It can be propagated by softwood cutting, at the end of the summer.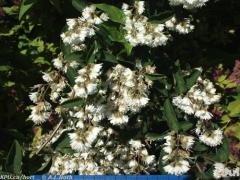 Attribute
Description
Form:
Arching, twiggy, upright.
Foliage type:

Ovate with crenate argin.

Height/
Width:

Up to 3 m tall and 2-3 m wide.

Hardiness
Zone:
Zone 6.
Exposure:
Full sun, part-sun/part-shade.
Flower
Colour:

White.

Leaf
Colour:
Green, deciduous.
Flower
Time:
Spring/summer.
Preferred Soil &
Watering:

Average soil and watering. Be careful to avoid too much water or drought conditions.

Other:

Attractive to bees. Can be grown in containers. Has brown exfoliating bark. 
Photo credit:  Plant Database (KPU)