Latin name:  Acidanthera murilae/Gladiolus callianthus
by Vancouver Island Master Gardeners Association
A South African species plant growing in North America since 1896, this corm enjoys full sun, average water and regular feedings.
Plant 4-6 inches deep, fertilize in spring as the corms start to show and water well to establish but beware of over watering. They need protection from winds as the slender sword like leaves can bend in a stiff wind but do not require staking.
Acidanthera does well in containers and the best bonus - they are fragrant!!  They do not tolerate being frozen but if in the ground a layer of mulch will protect them. If in pots they may need to be moved inside or lifted, stored in cool, dry and dark and then replanted in the spring.
At Milner Gardens & Woodland, the Acidanthera murilae can be found along the path behind the Pool House Gift Shop along the edge of the Greig Rhododendron Species Garden.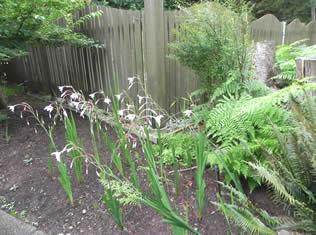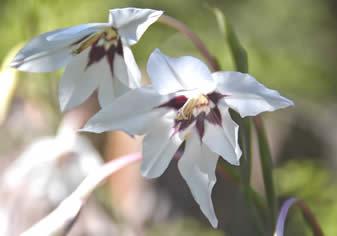 Photos courtesy of:  Kay Howard and Milner Gardens.
Attribute

Description

Form:

Corm.

Foliage type:

Upright two/three flat blades.

Height/Width:

0.7 metres x 25 cm.

Hardiness Zone:

Zone 7-11.

Exposure:

Full sun.

Flower colour:

White with dark purple throat.

Leaf colour:

Mid-green.

Flower time:

August.

Preferred soil

and Watering:

Well-drained rich soil, water well to establish then moderately, as needed.

Other:

Protect from freezing and from winds.

Makes a great cut flower.