by Vancouver Island Master Gardeners Association

Latin name: Coreopsis verticillata 'Moonbeam'
Common name: Moonbeam coreopsis, Threadleaf Coreopsis, Moonbeam Whorled Tickseed
Coreopsis verticillata 'Moonbeam' is a lovely, hardy, low maintenance perennial that is suited to full sun and low water conditions.
It has an upright habit, forming an open mound up to 18" in height and spreads by rhizomes to about 24" wide. In the spring/summer, it has bright, lemon yellow daisy-like flowers among a profusion of fine, needle-like foliage.
This plant thrives in well-drained soil that's not nutrient- or organically-rich. In fact, rich soil can make the plant grow overly leggy. Because of its ability to withstand poor soils, it brings wonderful colour to rock gardens but also looks fantastic scattered among foundation plantings. The bright yellow flowers are a favourite of butterflies, bees and other pollinators.
Native to North America, Coreopsis verticillata 'Moonbeam' requires minimal effort to maintain. During the blooming period, you can dead head if you wish to keep flowers coming. In the fall, do not cut the plant back – the plant benefits from having the stems and foliage left intact to act as insulation and helps to protect the crown from the cold. In the spring once all danger of frost has passed, cut the dead stems down to just two to three inches above the ground, and new flowers will grow. Divide every three years.       
Propagate by seeds, cuttings or crown division in fall or early spring.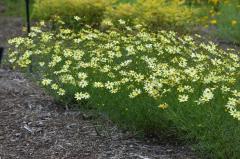 Attribute

Description

Form:

Upright habit, mounded.

Foliage:

Compound leaf, palmatifid with entire margin.

Height/Width:

Usually 1-2 feet tall and 2 feet wide.

Hardiness Zone:

Zones 4 - 9.

Exposure:

Full sun preferred, but can handle part shade.

Flower colour:

Light yellow.

Leaf colour:

Green, deciduous.

Flower time:

Early to late summer/early fall.

Preferred soil

and Watering:

Prefers well-drained soil, not overly rich. Drought tolerant once established but water at least once a week during hot periods.

Other:

Excellent for cut flowers. Sometimes called Threadleaf because its leaves are wiry; also commonly known as Tickseed.

Coreopsis verticillata 'Moonbeam' can be found in the Greig Rhododendron Species Garden at Milner Gardens & Woodland.
Photo Credit:  moonbeam-whorled-tickseed