Helleborus orientalis - Lenten Rose or Christmas Rose
by Vancouver Island Master Gardeners Association
One of the earliest blooming plants in the garden, this evergreen perennial blooms in late winter, sometimes even through snow cover, with large, cup-shaped, rose-like, usually nodding flowers three to four inches round that last eight to ten weeks.  They thrive in part to full shade and are deer resistant.  Flowers usually appear in clusters of one to four on thick stems rising above the foliage. Flower color is extremely variable, ranging from white to pink to light rose-purple, frequently with interior spotting. 

Easy to grow, requiring only a shady, sheltered location, clumps of Lenten Rose blooming in February or March are true harbingers of spring. Locate plants where they will be a focal point of your winter garden so that the early blooms may be enjoyed to the fullest. Flowers usually appear in clusters of one to four on thick stems rising above the foliage. Shady locations under trees or large shrubs, or woodland gardens are perfect for these shade loving evergreens.  Clumps will slowly spread through self-seeding and can eventually become an attractive ground cover.  Note that these plants are toxic if ingested in large quantities and can irritate the skin.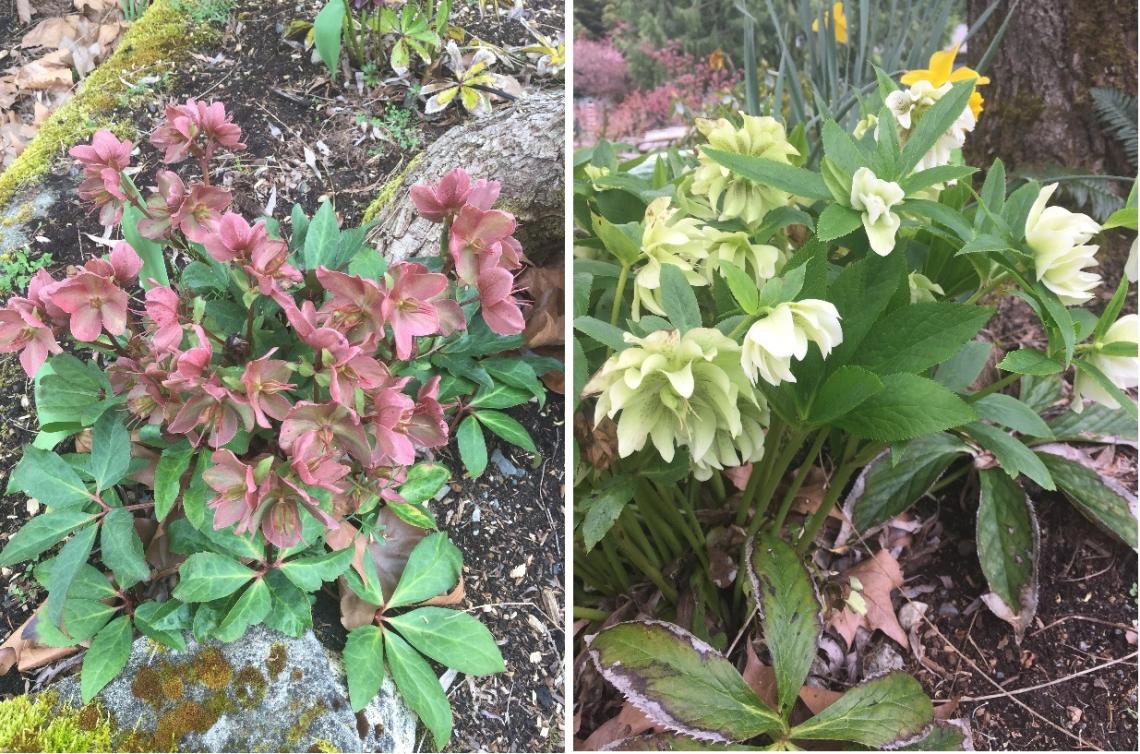 Photos courtesy of Wanda Brenton
Attribute

Description

Form:

Erect, clumping evergreen

Foliage:

Leathery, shiny, dark-green leaves palmately divided with 7-9 leaflets, edged with shallow teeth.

Height/Width:

1 to 1.5 feet tall and wide

Hardiness Zone:

4 - 9

Exposure:

Partial or dappled shade to full shade

Flower colour:

greenish, white, red, deep red, to purple, amongst others.                                             

Leaf colour:

Deep to light green

Flower time:

Variable, from as early as December to late May

Preferred soil

and Watering:

Prefers moist soil with good drainage, but tolerates poor soil and dry conditions

Other:

Cut back flowering stems when blooms fade to promote new foliage growth. Propagation can be can be obtained from division of the clumps. Hellebores do often self-seed if flowers are not cut back, but may not flower true to original form.