Latin name:  Alchemilla mollis
by Vancouver Island Master Gardeners Association
Lady's Mantles  (Alchemilla mollis) are at their attractive best immediately after a rain. Their foliage captures water droplets in the leaf giving the appearance of jewels in an elaborate cup. This pleated foliage which is softly hairy is a predominant characteristic of Alchemilla mollis.
The plant produces many branched cymes (flower clusters) of tiny pale green to yellowish star-shaped blossoms, each about 1/4" (2-3 mm) in diameter. These flower stems make excellent long-lasting cut flowers.
This tough, adaptable plant is native to Turkey and the Carpathian Mountains and has traditionally been used to treat stomach ailments and dye wool an olive green colour.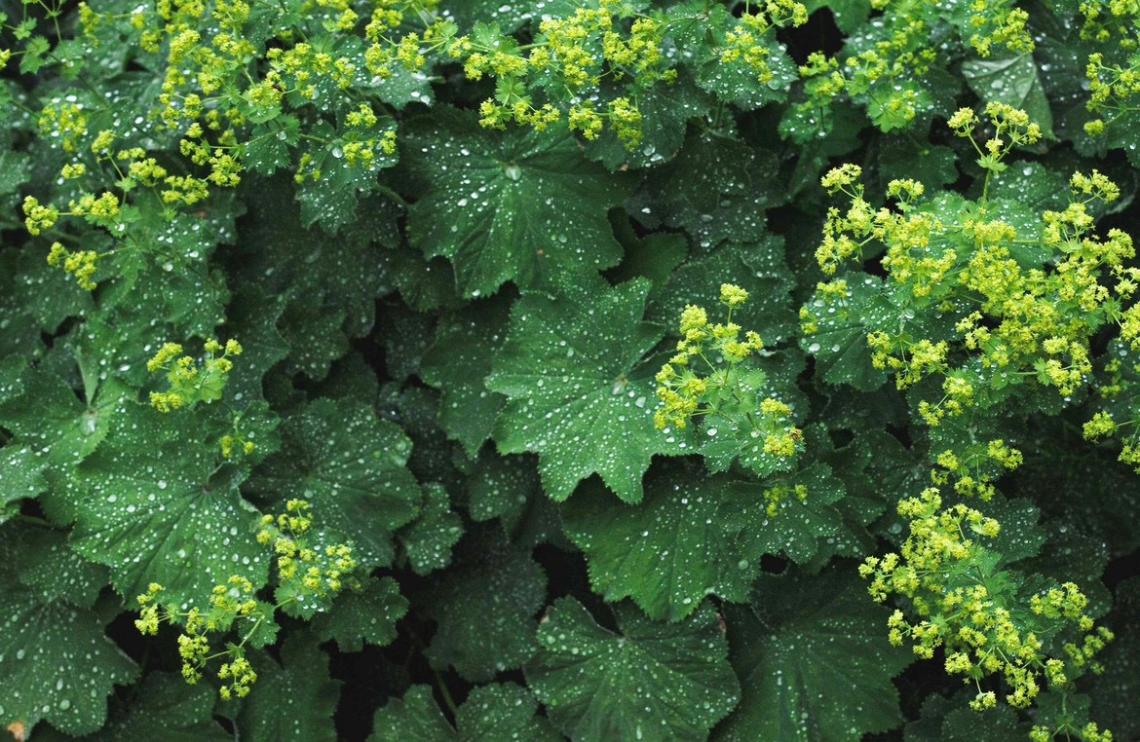 Attribute

Description

Form:

Woody perennial growing from rhizomes

Foliage:

Palmate, with 7-11 folded lobes (pleated), toothed, densely-softly hairy leaves to 6" (15cm) in diameter

Height/Width:

24" (60 cm) width 30" (75 cm)

Hardiness Zone:

3-8

Exposure:

Sun to partial shade

Flower shape and colour:

1/4" star-shaped flowers without petals arranged in a cyme. Green to pale yellow

Leaf colour:

Pale green (olive)

Flower time:

Summer

Preferred soil

and watering:

Moist but well-drained, humus rich soil

Pests and diseases

 Slugs and snails may damage young foliage. Generally trouble-free

Other:

Alchemilla mollis tolerates moist soil, but prefers well-drained areas. It is deer resistant. Note that it is slightly invasive through spreading seeds liberally. However, if flowers are cut before ripening, it is well behave. Flowers are useful in bouquets and also are suitable for dried flowers. Flowers and leaves are best sheared off before the next growing season, to let the new foliage be shown at its best.