Latin name:  Phlomis russeliana
by Vancouver Island Master Gardeners Association
Phlomis russeliana or Jerusalem Sage, a member of the mint family (Lamiaceae) is an attractive plant that appears deer resistant.
Its ovate leaves form a basal clump which remains green throughout the year, making it an attractive addition to a perennial bed even in winter. Starting in early summer, flower stalks grow to about 3 feet (90 cm). The whorls of hood-shaped yellow flowers encircling the stalks are long-lasting and suitable for cutting.
While preferring a sunny spot, this hardy herbaceous perennial easily tolerates some shade and is not fussy as to soil type.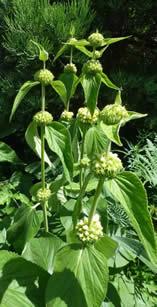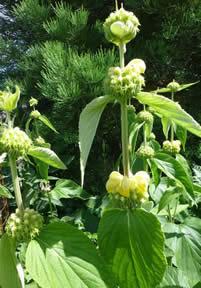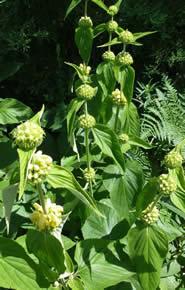 Photos courtesy of:  Dorothee Kieser.
Attribute

Description

Form:

Plants grow from rhizomes and form dense clumps.

Foliage type:

Leaves in basal clump are broad, ovate, rough textured grey-green leaves 2 ½ - 8" (6-20 cm) long. Leaves along flower stalk are smaller and scalloped.

Height/Width:

After 2-5 years, the plant reaches a clump size of 30" (75 cm) or more.  

Height of flower stalks: 36" (90 cm).

Hardiness Zone:

Zones 5 to 9.

Exposure:

Full sun, but tolerates part shade well.

Flower colour:

Yellow.

Leaf colour:

Grey-green.

Flower time:

June – September.

Preferred soil

and Watering:

Grows Grows well in a Mediterranean setting.

Soil should be well drained.

Pests & diseases:

Generally trouble free, but occasionally leaf hoppers can be a problem.

Other:

This plant is rarely browsed by deer.

The seed heads give winter interest to the garden. They should be cut back in early spring.

 Plants can be divided in mid-spring. 

Phlomis flowers are good in a cutting garden and also dry well.

The plant originated in Turkey/Syria.

At Milner Gardens & Woodland, the Phlomis russeliana can be found in the beds around the Grand Lawn.