Latin name:  Kerria japonica
by Vancouver Island Master Gardeners Association
The commonly grown double form 'Pleniflora' with pom-pom balls of golden yellow makes a wondrous show in the spring garden.  It seems to glow against a dark background.  Happy in shade, the shrub naturalizes well and the arching green stems provide winter interest.  
Several species of Kerria hail from China and Japan. The common species plant of Kerria is more sprawling, and the typically single flowers are not as showy as several of the cultivars. 
'Pleniflora' is useful in the garden for its bright and abundant clustered blooms in mid spring and its vertical habit which provides contrast with rounded and coarser textured shrubs and perennials.  It is particularly pleasing with plants that echo the yellow colour in the spring and with variegated foliage shrubs such as Acuba or various blue and yellow spring flowers. 
The plant tolerates shade and when established, is quite drought resistant.
It is named after William Kerr who brought the plant to the west.
At Milner Gardens & Woodland, the Kerria japonica 'Pleniflora' is located in front of the Viewing Platform.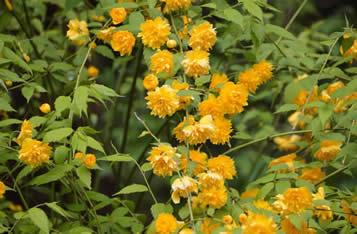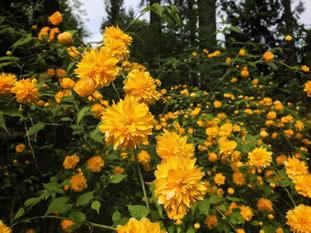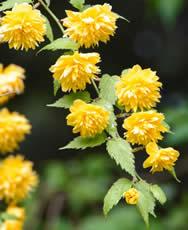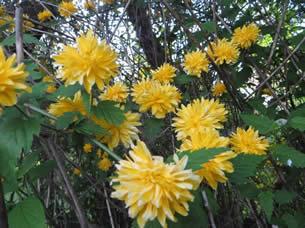 Photos courtesy of:  Phyllis Fafard and Milner Gardens & Woodland.
Attribute

Description

Form:

A cane growing shrub with a vertical habit – tall, slender stems.

Foliage type:

Alternate, simple, lance shaped 3 – 10 cm, heavily veined, doubly-toothed.

Height/Width:

1 – 3 m.

Hardiness Zone:

Zones 4 – 9.

Exposure:

Prefers medium shade – flowers fade in bright sun.

Flower colour:

Bright yellow gold.

Leaf colour:

Bright green.

Flower time:

April – May and occasionally during the summer.

Preferred soil

and Watering:

Tolerates extremes but like good drainage.

Other:

As it blooms on old wood, this plant should be well pruned shortly after flowering to take out weak canes to keep the plant thriving. 

Give it room to spread.