Latin name: Viburnum farreri
by Vancouver Island Master Gardeners Association
Looking for an early blooming shrub to brighten the dark days of winter? Consider the Vibernum farreri. 
Its bare stems are hung with clusters of pink-white flowers in late winter to early spring.  These are followed by bright red berries attractive to birds.  The foliage is bronze as it unfurls in spring, matures to dark green, and puts on a colourful red-purple display in the fall.  This loosely formed bush reaches a mature size of 10 feet by 10 feet and tolerates moist soils and exposure.
Look for the specimen at Milner Gardens & Woodland located by the Iron Gate along the driveway when you visit to enjoy the snowdrops.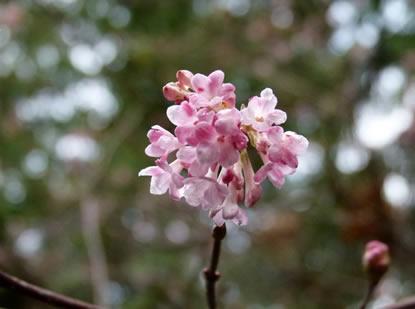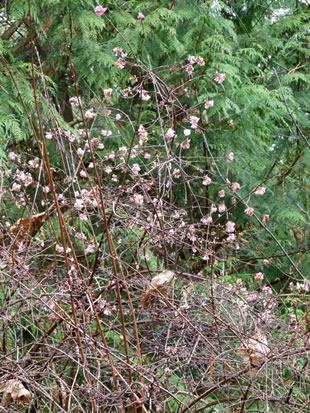 Photos courtesy of:  Angela Einarson
Attribute

Description

Form:

Upright, deciduous, loosely branched shrub which flowers on last year's growth.

Foliage type:

Leaves in opposite pairs, prominently veined, oval, toothed, 4 inches (10 cms) long.

Height/Width:

8 to 12 feet tall by 6 to 10 feet wide.

Hardiness Zone:

Zones 6 – 8.

Exposure:

Full sun to partial shade. Needs shelter from strong winds.

Flower colour:

Tubular pink/white born in terminal clusters.

Leaf colour:

Bronze in spring, dark green in summer and reddish purple in fall.

Flower time:

Late winter through spring.

Preferred soil

and Watering:

Tolerates both acidic and alkaline soils.  Keep moist but well drained.

Other:

Fruit is mildly toxic, if ingested. 

Vibernum x bodnantense is similar and maybe more widely available.  The Latin specific epithet "farreri" commemorates British plant explorer, Reginald Farrer.