(also trout lily, dog's tooth violet, or adder's tongue )
Latin name:  Erythronium 'Pagoda'
by Vancouver Island Master Gardeners Association
Erythronium 'Pagoda' is a cultivar of the genus Erythronium and in the liliaceae family.  It is a clump-forming perennial corm.  'Pagoda' is reported to be a hybrid between Erythronium tuolumnense and Erythronium 'White Beauty' (thought to be a cultivar of E. californicum).  The former species has solid green leaves while the latter species has attractive bronze mottling on the leaves.  'Pagoda' has the bronze mottling      of its E. californicum parent and it is much more vigorous than either of its parents. It has bright yellow       flowers with recurved petals and is an easy bulb to grown in most gardens on the coast.  There are multiple flowers on each stem.  It flowers in early spring.
Both of the species parents of 'Pagoda' are found in deciduous woodland to open mountain meadows in western North America.  They are two of 22 species of Erythronium found in Europe, Asia and North America.
Propagation is either by seed in autumn or by division of the corms when the leaves die down in summer.  The corms are long-pointed tooth-like bulbs, hence the common name `dog-toothed` violet.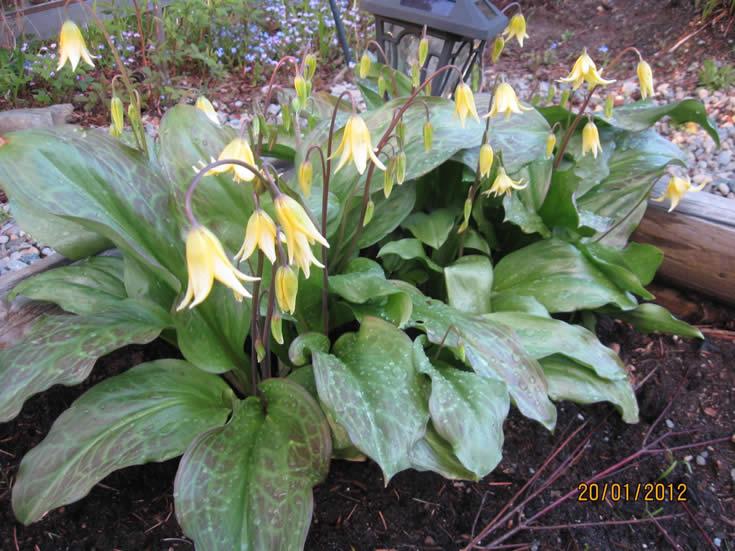 Photo courtesy of:  Chris Southwick
Attribute

Description

Form:

Clump-forming perennial corm (type of bulb)

Foliage:

elliptic

Height/Width:

15 – 35 cm tall x 10 cm wide

Hardiness Zone:

Zone 4

Exposure:

Prefers partial shade

Flower colour:

Sulphur yellow with brown central rings and deep yellow anthers

                                               

Leaf colour:

bronze mottling on glossy, dark green, leaves

Flower time:

April, early spring

Preferred soil

and Watering:

Plant prefers a light soil, rich in humus.  Tubers must not get too hot or too dry in summer.

Other:

Plants bear multiple flower stems, each bearing 2-5 and sometimes up to 10 flowers per stem.

Grow in clumps under deciduous trees and shrubs, or in rock gardens.  They can also be naturalized in thin grass.

The bulb is edible as a root vegetable, cooked or dried,and can be ground into flour.  The leaves can also be cooked as a leaf vegetable.  In Japan, Erythronium japonicum is called katakuri, and the bulb is processed to produce starch, which is used for food and other purposes.

Erythronium `Pagoda` has been awarded the Royal Horticultural Society`s Award of Garden Merit.