Latin name: Colchicum autumnale
by Vancouver Island Master Gardeners Association
An often forgotten bulb choice but one that delivers twice in a season, the Fall Crocus and its several varieties are both cheerful spring greenery and fall colouring in one bulb. Easily grown they naturalize without any fuss and brighten a gray dreary day in the fall.
Nothing like your early spring crocus, except perhaps similar in shape, the fall crocus bloom is large and eye catching. There are single petal and doubles in pink, white and purple goblet-shaped naked (as in leafless) six-petaled flowers that, if planted in groups, create a great display of fall colour.
In spring only the leaves show up with large wide swaths of bright green, sometimes ribbed, to offset and show off the other early spring bloomers in your garden. Planted about 10 cm deep these large bulbs are good naturalizers, easy to grow and propagate (just lift after blooming, split and replant) or save the seed and plant right away.
Be sure to plant them so the short flowers are able to be seen but the long leaves don't hide early plants.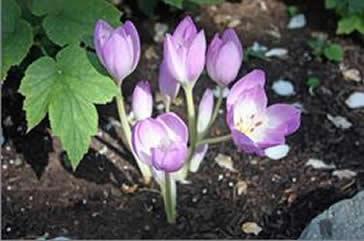 Photos courtesy of: Kim Hammond.
Attribute

Description

Form:

Bulb, cormous perennial.

Foliage type:

Wide strapped leaves that once yellowed, pull out easily.

Height/Width:

30 cm x 30 cm (flower) leaves up to 30 cm long.

Hardiness Zone:

Zone 4.

Exposure:

Does best in full sun but will tolerate part shade.

Flower colour:

Pink/white/purple and a double called 'Waterlily'.

Leaf colour:

Bright green.

Flower time:

September/October.

Preferred soil

and Watering:

Well drained, sandy, but organically rich, should be dryish when dormant.

Pests & diseases:

Slugs do like the leaves so have some bait handy.

Other:

Can be a skin irritant if prone, whole plant is toxic.