Latin name:  Paulownia tomentosa
by Vancouver Island Master Gardeners Association
Paulownia tomentosa is a showy deciduous tree from East Asia.  It is a fast growing, broadly columnar tree with bright green hairy leaves up to 30 cms long. 
However, it is grown for its fragrant bright purple blossoms which resemble foxglove flowers. The flowers are 5 cms long and are borne in large upright panicles. They appear as the leaves emerge and fade to give way to clusters of large brown seed pods. 
The tree is tolerant of atmospheric pollution and poor soil and has even become naturalized in the eastern USA.
The impressive Empress Tree can be found in the northeast corner of the Nursery at Milner Gardens. The purple and yellow blossoms stand out against the dark green of the surrounding cedar trees.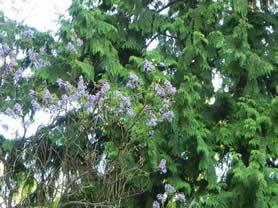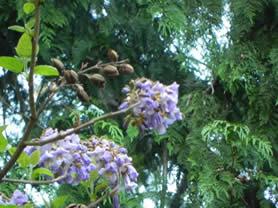 Photos courtesy of:  Kay Howard.
Attribute

Description

Form:

The tree is broadly columnar to spreading.

Foliage type:

The leaves are ovate, shallowly lobed, very hairy and light green in colour.

Height/Width:

The tree will grow to 12 meters high and 10 meters wide.

Hardiness Zone:

It is hardy to Zone 6b but flowers best when grown in areas with long hot summers.

Exposure:

The tree likes to be grown in full sun.  When grown in colder areas, Paulownia grow best when they are sheltered from cold drying winds.

Flower colour:

The flowers are lilac purple with yellow marks inside.

Leaf colour:

The leaves are bright green.

Flower time:

The tree flowers in spring, around the middle of May before the leaves are fully formed.

Preferred soil

and Watering:

The tree flowers in Spring, around the middle of May before the leaves are fully formed.

Other:

The seed pods fall from the tree in summer and contain dozens of white feathery seeds which will germinate quite readily if planted in light soil and placed in a cold frame for the winter. 

This tree is a spectacular specimen tree.