Latin name:  Crinodendron hookerianum

by Vancouver Island Master Gardeners Association
Chilean lantern trees have lance-shaped, glossy evergreen leaves 5 – 10 cm long on a tree that might reach 9 m in the wild, but is seldom over 4 m in cultivation. The solitary crimson flowers, not unlike upside down tulips, hang off long stems from late spring to summer. These trees have similar soil requirements to rhododendron, which make them a good choice for the Pacific Northwest.
The Chilean Lantern tree is from the family Elaeocarpaceae and is native to Chile where it grows near streams in humid and shady locations. The bark is an ash-grey colour and the lanceolate leaves are glossy green with a hairy white-green underside. These leaves grow opposite along branches, but do occasionally alternate or are whorled. Flower buds form in the fall and swell during the growing season to become the crimson lanterns that the tree is named after.
The Chilean lantern tree prefers a moist, but well-drained, humus-rich acid soil in partial shade. It only tolerates full sun if the roots can be shaded and kept cool. The tree should be placed out of dry cold winds as the young buds and flowers are susceptible to hard frosts - especially since the buds form in late summer/fall and over-winter before blooming.
The only pruning generally required is the removal of dead wood in spring.  This tree is pest and disease free and can be propagated from semi-hardwood cuttings. 
Crinodendron hookerianum can be found in Milner Gardens sheltered in the heritage Rhododendron Grove.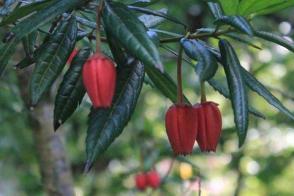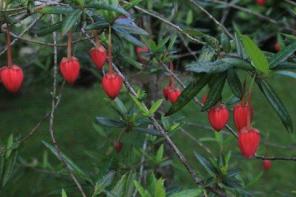 Photos courtesy of Corrie deKluyver for Milner Gardens & Woodland. 
Attribute

Description

Form:

Bushy and columnar broad-leaf evergreen tree.

Foliage:

Lanceolate evergreen leaves that can be opposite, alternate, or whorled.

Height/Width:

In cultivation 8 m high and 5 m in spread.

Hardiness Zone:

Zone 5C or USDA Zone 9A.

Exposure:

Part sun to part shade/ no dry cool winds.

Flower colour:

Pink to crimson red.

Leaf colour:

Glossy green surface with paler white-green underneath.

Flower time:

Late spring to mid summer.

Preferred soil

and Watering:

Acidic, humus -rich, well-drained soil that is kept moist between waterings.

Avoid dry soils.

Other:

The simple beauty of this tree combined with its lack of necessary pruning and the fact it is virtually pest and disease free has earned it an Award of Garden Merit from the Royal Horticultural Society.