by Vancouver Island Master Gardeners Association
Latin name: Caryopteris x clandonensis
Common Name: Bluebeard
This showy accent plant attracts butterflies and hummingbirds; it thrives in mixed shrub borders from late summer to early fall.  A compact, deciduous shrub that showcases tight blue flowers is contrasted by gray green foliage of ovate, coarsely toothed, aromatic leaves.
The caryopteris x clandonensis blooms earlier that other Bluebeards creating a fresh indigo blue colour accent to garden beds and borders from late summer well into fall.  This full sun loving plant is easily grown in average to medium well-drained soils.
The Bluebeard or caryopteris x clandonensis requires very little maintenance, except for a hard cutting back in the Spring. Easily grown in average to medium moisture in any type of well drained soil, the caryopteris will not tolerate wet or poorly drained locations.  Once established the caryopteris x clandonensis is heat, drought, rabbit, and deer tolerant.  An easy care, fast growing shrub that is an excellent addition to any flower bed or border including gravel and rock gardens.  The Bluebeard is a recipient of the Award of Garden Merit from the Royal Horticultural Society for its beneficial qualities.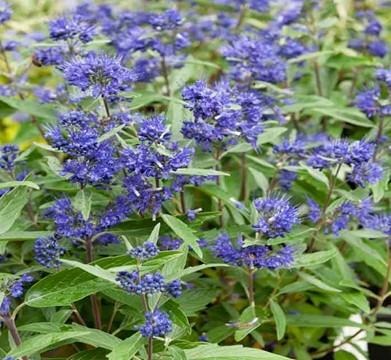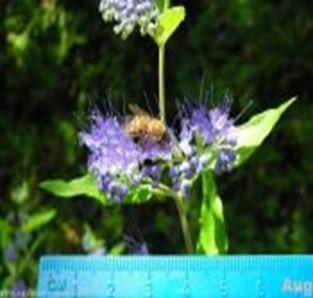 Form:  Shrub.
Foliage type:  Ovate, coarsely toothed.
Height/Width:   2' to 3' tall; spreads 2' to 3' wide.
Hardiness Zone: Zone 5 to 9.
Exposure:  Full sun.
Flower Colour:   Deep blue indigo buds.
Leaf Colour:   Grey green.
Flower Time:  Summer into late fall.
Preferred Soil &Watering:  Average water needs; moist well-drained soils. Drought tolerant, will not tolerate wet or poorly drained soil. Chalk, loam, rocky or sandy soil with acid, alkaline and/or neutral base all work well for the Bluebeard.
Other:  Great for attracting butterflies, bees, and other beneficial insects.  Deer and rabbit resistant.  Almost pest free, watch for capsid bug.  Can be propagated by cuttings; greenwood and softwood.
Caryopteris x clandonensis 'Kew Blue' can be found in the Venus bed at Milner Gardens & Woodland.
Photo credits:  plantdatabase and gardenia