Latin name: Ceratostigma plumbaginoides
Common names: Blue plumbago, Cape leadwort
by Vancouver Island Master Gardeners Association
Plumbago is a groundcover or edging plant with colorful fall leaf colour and brilliant blue coloured flowers. It is also useful in rock gardens, it is deer resistant, and a star of the late summer.
It is a great plant for interplanting between spring bulbs because its foliage emerges late as bulb foliage is dying back and it has phlox-like gentian blue flowers.
Commonly called plumbago or leadwort, this is a wiry mat-forming herbaceous perennial with a wide range of soil tolerance except for wet, poorly drained soil.
It spreads by rhizomes to form an attractive groundcover. It has outstanding foliage and flower color.
All parts of the plant are poisonous if ingested. Handling the plant may cause skin irritation or allergic reaction (wear gloves).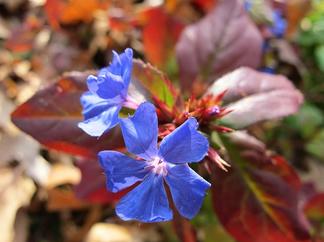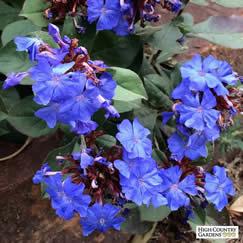 Photos courtesy of:  High Country Gardens (Royal Horticultural Society.)
Attribute

Description

Form:

Wiry, mat-forming, spreading ground cover.

Foliage type:

Oblong, spatulate shape, alternating leaves.

Height/Width:

20 – 30 cm. / 45 – 60 cm.

Hardiness Zone:

Zones 5 to 9.

Exposure:

Full sun to partial shade.

Flower colour:

Deep gentian blue.

Leaf colour:

Green in summer to bright scarlet then maroon red in fall.

Flower time:

Late summer, early fall, mid-fall.

Preferred soil

and Watering:

It is easily grown in average, medium, well-drained soils, has medium watering requirements, and is somewhat drought tolerant once established.

Other:

The genus name comes from the Greek word keras meaning a horn and stigma from the hornlike projection on the stigma of the flower.