Latin name:  Dierama pulcherrimum
by Vancouver Island Master Gardeners Association
In the still, hot days of July or August a special treat awaits.  Behold Dierama pulcherrimum with stalks so slender that even on a calm day there is continual movement.  The delicate stems held high above the foliage droop with the weight of the pink flower panicle. Clumps of fine, grey-green blades support several flower stalks. A hardy perennial, this plant is eye catching alone or in groups.
A native of South Africa, and found in mountainous grasslands.  The 44 species give a variety of plant size and flowers in shades of mainly pink.  It grows from corms and will remain evergreen in a mild winter.  The tough, linear blades of the plant's foliage can be tidied in the early spring.  Not all species are hardy.  Choose from tall varieties for the back of the border to small clumps suitable for rock gardens.
At Milner Gardens view Dierama pulcherrimum and Dierama adelphicum in the flower beds near the Pool House Gift Shop.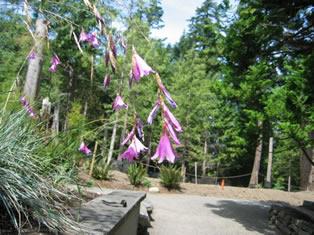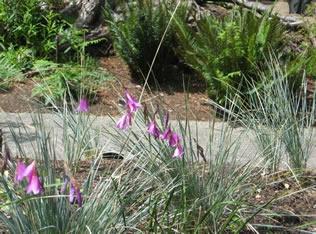 Photos courtesy of:  Angela Einarson.
Attribute

Description

Form:

Evergreen, cormous perennial.

Foliage type:

Basal tufts of erect to semi-erect, thin grass-like grey-green leaves.

Height/Width:

Leaves up to 30 to 36 inches (75 to 90 cm) overtopped in summer by slender flower stems.  Basal clump 8 to 12 inches (20 to 30 cm) after several years

Hardiness Zone:

Hardiness zones 8 – 9. 

Exposure:

Full sun in a sheltered site.

Flower colour:

Pale to deep magenta pink.

Leaf colour:

Gray-green.

Flower time:

Mid July into August.

Preferred soil

and Watering:

Humus-rich, well-drained soil, watered freely in the growing season.

Other:

Mulch well in winter.  

The foliage may fade to brown in a cold winter, but will re-sprout in the Spring.

If necessary trim back in early Spring before new growth begins.