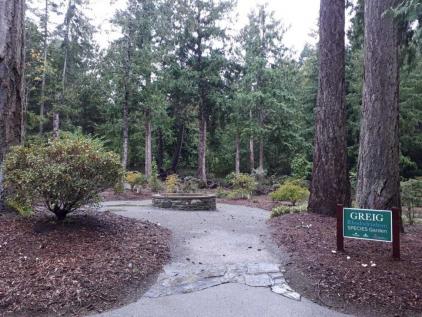 The Greig Species Garden opened to the public in April 2018. It is a partnership between Milner Gardens & Woodland and the five Vancouver Island chapters of the American Rhododendron Society in Qualicum Beach, Nanaimo, Courtenay, Cowichan and Victoria. The new garden was named after Ted and Mary Greig, pioneers in their field, who created many of the early hybrids found elsewhere in the garden
The Greig Rhododendron Species Garden is an education project to show the diversity of the genus rhododendron. The garden is laid out in six geographic areas, Szechuan, Yunnan, Himalayas, Northeast Asia, Europe and North America There is also room to nurture endangered species and a small section to represent plants that are parent to many of the Greig hybrids found in the rest of the garden.
The Rhododendron Collection
Veronica Milner was introduced to rhododendron hybridizers Ted and Mary Greig in 1954 and in the following 15 years planted over 500 rhododendrons which are now the foundation of our woodland garden.
Grants for Milner Gardens & Woodland
The Gardens received a generous grant from the American arm of the Stanley Smith Horticultural Trust, an organization based in the United Kingdom that funds projects pertaining to the preservation and development of public gardens. Further donations were also received from The Mount Arrowsmith Rhododendron Society, The Cowichan Valley Rhododendron Society and Jim & Jean Greig. This funding supports our endeavor to identify, label and develop interpretive signage for our rhododendrons, to allow the visiting public to learn more about our unique collection.
Milner Gardens has over 400 rhododendrons currently accessioned, with more than 150 of these unidentified or carrying names from old plant tags that require verification. Many of the old plant tags are illegible or engulfed in the bark of specimens, requiring some sleuth work to ascertain what the label may have read.
We used different methods to tackle the enormous job of finding the lost names of our rhodies. First, we invited a number of rhododendron experts, from B.C., Washington and Oregon, to visit the Gardens to view our collection and share their expertise. We also have limited historical documentation available to us including a planting map and invoices from the Greig's Royston Nursery from the 1960's. These documents give us the advantage of narrowing the potential names available – its easier to choose from 500 possible names than from the thousands of rhododendrons that exist in cultivation today.
The most painstaking but accurate method of identification involves using botanical keys. 'Keying out' a specimen requires closely analyzing flower parts and leaves for characteristics such as size and shape, as well as microscopic details like minute hairs and glands. It's a very detailed, methodical and fascinating process.
Rhododendron Documents