Weddings and Rentals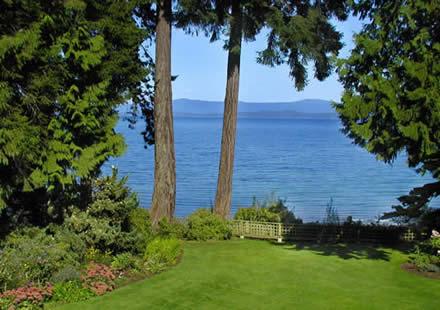 A Perfect Setting
Milner Gardens & Woodland in Qualicum Beach offers the perfect location for outdoor wedding ceremonies, light receptions, and wedding photos in a stunningly beautiful seaside garden setting that overlooks the spectacular views of Georgia Strait and the coastal mountains.
The Garden presents many enchanting settings including an ocean view
backdrop, lush gardens, old-growth forest and a charming heritage house
that once entertained royalty.  The house is nestled in a delightfully wild Artist's garden and is available for small intimate ceremonies, light receptions, and dinners.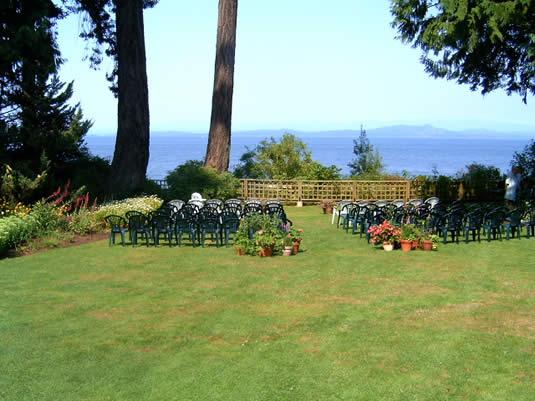 Frequently Asked Questions
Accommodations:  Are there pleasant and comfortable accommodations nearby for our out of town guests?

Yes. The Town of Qualicum and The City of Parksville offer many wonderful hotels and motels.  Contact the Chamber of Commerce (Qualicum) 250 752-0960 or (Parksville) 250 248-3613
Reasonable accommodations are also available at VIU Residences on the University Campus in Nanaimo.  Call 250 754-6338 or see VIU Residences.
Catering: Can we use our own caterer?

We strive to offer the best choices and have found that events run smoothly with caterers who consistently work here. However, others are always welcome but require a run through of the facilities with a Wedding Coordinator. 
Children:  Are children allowed?

Children are most welcome but must be supervised by an adult at all times.
Event Deposit: Can I reserve a date for my event without making a deposit?

Milner Gardens and Woodlands is a very popular site to hold weddings and other special events. A contract and deposit is required for your date to be confirmed as reserved.
Event Cancellations: Can my rental deposit be refunded to me if I am forced to cancel my event?

Prepaid rental deposits are typically not refundable. Any requests for refunds of this deposit or cancellations must be made in writing and will be directed to the Executive Director for consideration.
Guest Count:  How many people can Milner Gardens and Woodlands accommodate?

During our summer months, we can easily hold a wedding and light reception for up to 200 guests. This would involve full use of the grounds. The Milner House is a perfect setting for a small wedding reception which would accommodate approximately 50 guests; Up to 200 guests can be accommodated, with tenting, around the grand lawn areas.
Pets:  Are pets allowed?

No pets allowed with the exception of certified assistant dogs.
Guests:  How do guests get around the woodlands and gardens?

Guests may walk through the forest to the gardens, a ten-minute walk, or they can be shuttled to the Milner House via shuttle carts.
Recommendations:  Can you recommend florists, musicians, photographers, wedding coordinators, etc?

The Wedding Coordinators have lists for your perusal.
Inclement weather: What if it rains?

Unfortunately, this is an area over which we have no control.  However, tents are available on a one day advance notice at an additional cost.
Tables and Chairs: Are they available for my use?

Milner Gardens and Woodlands supply 75 lawn chairs and 4 rectangular folding tables in the basic event contract.  Extra chairs and tables are at an additional cost.  For a reception after hours, please arrange the rental of round tables and chairs with your caterer.
Early Set-Up:

The set up may begin one hour prior to the beginning of the event or earlier with prior arrangements.  Please review your contract with your Event Coordinator for set-up arrival time.
Parking Service:  How many guests can Milner Gardens and Woodlands accommodate for parking?

We have accommodations for approximately 70 cars on the property.  Overflow parking is located on the highway.  Parking attendants will be provided.
Music: What arrangements can we make for music?

Because we are located in a residential area, we must obey the Town of Qualicum noise ordinance and respect the rights of our neighbors to enjoy their residence during your event. Soft music is acceptable, (e.g. Violin, Flute, Guitar or Harp).  Amplified music must be approved.  Music set up time is one hour prior to the event.
Decorations: What are my decorating options?

Milner Gardens and Woodlands is an old growth forest. It is important that we always maintain the intended integrity of the gardens. Decorations i.e. balloons, confetti, rice, birdseed, or flammable devices of any type are not permitted.  The release of doves and butterflies is not permitted.  Bubbles and flower petals are welcome (petals must be picked up after the event). Floral arrangements are the responsibility of the client and are welcome in the gardens.
Restrooms: Are there ample restrooms on site?

Milner Gardens and Woodlands have a total of seven restrooms available for use during your event. Three are located in the main house (opend during all ceremonies); two are at the pool house Gift Shop and two at the Welcome Center (during regular open hours).  Handicapped restrooms are available at the Welcome Center and Main House.
Vendors: When can my vendors arrive?

Please arrange the arrival times of your caterer, minister, photographer and other event vendors with The Events Coordinators. Your vendors are allowed to arrive for set-up as determined by your rental contract. All vendors must check-in at the Welcome Center upon arrival.
The Event Coordinator: What does the Milner Gardens and Woodlands Event Coordinator do during my event?

An event coordinator will be on-site during your event to monitor the wedding, assist with the wedding party to ensure that all is in order.  They also will be assuring that rules are being followed and to handle building/grounds emergencies. They will periodically check the music level, making sure it is within the environmental limitation established. The event coordinator will do random grounds walk checking for safety and security issues. Milner's staff is responsible for making sure the restrooms are in good working order, and adequately stocked.
Event end-time: How do I make sure my event does not go beyond the contract time?

The Event Coordinator will remind you ¾ of an hour before the departure time to ensure that your guests are out of the gardens before closure time or dusk depending on your rental contract.  You can speak to your music provider and caterer in advance and ensure that they understand that music and bar service must, without exception, end thirty minutes before the end-time specified in the rental contract you signed. 
Rehearsal:  When can the rehearsal of my wedding ceremony take place?
The Wedding Coordinator and couple will schedule a time that is convenient the day or two before your wedding.  These are normally scheduled on days that Milner Gardens is open to the public, between the hours of 10:00 a.m. and 5:00 p.m. The dress rehearsal is limited to 25 people. Any additional attendees or guests are required to pay Milner Gardens and Woodlands standard admission fee.
Time/Damage/Cleaning deposit refund: When will my $300 deposit be refunded to me?
Within 30 days of your event, provided Milner Gardens and Woodlands is left in the same condition you found it, the time requirements were met, and no damage incurred. If there is additional Time/Damage/Cleaning or other charges, they will be deducted from your deposit and the balance will be refunded to you. Your refund deposit cheque will come from Vancouver Island University.
(please note, no charges for children 12 and under)
Site Viewing
Garden Admission …………………………$ 10.00 per person*
*No Charge if viewing pre-arranged with wedding assistant.
Wedding Photos and small weddings
This booking includes up to two hours in the beautiful Gardens to capture the magic of your special day in photos, up to three cars permitted to drive to the front of the Milner House, and the assistance of a knowledgeable garden attendant.
Photography booking: up to 25 people……………………..$300.00
Additional people……………………………...….....................$10.00/person
After 5:00pm
Photography booking: up to 25 people……………………..$400.00
Additional people…………...…………………….....................$10.00/person
Small Wedding, less than 20 people,
Mon – Thu or Fri – Sun before 12:30...................... $300.00
Garden Wedding Ceremony
Included in your ceremony booking is a one hour wedding rehearsal and can include any of the following items: signing table and chair, 75 chairs, 4 folding tables, 2 flower stands, and a 7 passenger shuttle cart with driver.
Ceremonies are booked during regular garden hours, between 10:00am and 5:00pm, for a maximum of three hours.  Bookings include access to the Grand Lawn, a staging area in the Main House for the Bridal party and washrooms located in the Main House.
Up to 50 people (three hours)...
Friday to Sunday…… ..$700.00
..............................................Monday to Thursday….$600.00
for additional 1/2hr....................................................$50.00
For additional guests please refer to 'Larger Wedding Parties' below
Garden Wedding Ceremony
with Garden Reception and use of Main House
Ceremonies with Garden Reception and use of Main House are booked for after hours, from 5:00pm to 8:30pm.  In addition to the Grand Lawn, bookings include the use of kitchen, living room, main and small tearoom, veranda, and washrooms.
Up to 50 people…………… Friday to Sunday …………… $1,000.00
..................................
Monday to Thursday ………… $900.00
For additional 1/2 hr................................................$50.00
For additional guests please refer to 'Larger Wedding Parties' below
Larger Wedding Parties
Milner Gardens & Woodland can accommodate larger wedding parties up to a maximum of 200.  Please note:  Main House maximum capacity is 75 people.
For each additional block of up to 25 people…………….$175.00
Additional Rental Items
1      Marquee tent (20'x20')………………………….……….....$275.00
6      Marquee tent (10'x10')……..……………………….........$ 50.00 each
150  White and 75 Green Lawn Chairs ……….............$ 1.00each
All catering, photography, music, floral, and other service arrangements are the responsibility of the client.
All prices are subject to GST.
For more information or to speak with a wedding assistant please contact the Main Office at 752-8573.
For a copy of our wedding contract, please click on the following:
Milner Gardens & Woodland is a public garden open to visitors: